Shipping 
This product is available to ship in 10 business days.
UPS Express
UPS Ground 
Local Pick-up 
Core 
There is a core charge on the 10-pack Overdrive Drum which will be refunded once core is returned.
The Billet 6R140 Rebuild Kit includes the following:
Specifics
 Exody Extreme Energy Clutches.
10-pack Overdrive drum 2022 10-pack Overdrive Drum.
 7-pack Intermediate.
 6-pack Forward.
 6-pack Direct.
 5-pack Low/Reverse
 Bushing kit
 Ford Gasket and seal kit
 TCS Billet Intermediate shaft
Description 
The Billet kit for the 6R140 Torqshift is available for the 2011-2019 6R140 models. All clutches, steals, seals, bushings, drums, machined piston housings and billet parts are included in the kit for a complete billet competition rebuild. This kit is designed for a trucks with 800-1000hp, suitable for towing, daily driving, and racing. If your 6.7L Powerstroke has a big turbo and fuel system with a tune, this kit is perfect for you.
Tuning 
Please contact us with any questions about tuning your transmission, via phone call or email.
Billet 6R140 Rebuild Kit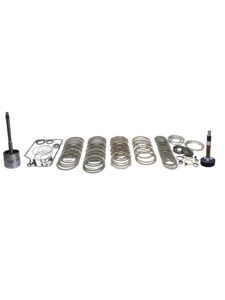 Billet 6R140 Rebuild Kit. Machined to fit, designed to last.
Product Brand: Warren Diesel
Product In-Stock: InStock