Core 
This product requires a core charge for the Xtreme Direct Drum, once core is returned the charge will be refunded. (Return label included.)
Shipping 
Now available with shipping options from UPS Express, UPS Ground and local pickup.
The Competition+ 5R110w Rebuild kit for Ford Power Stroke 5R110W (6.0L 2003-2007 and 6.4L 2008-2010)
Specifications 
Description 
The Competition+ Kit for the Ford 5R110w Torqshift transmission falls in the 600-800hp category. A common question about this kit is its significance between the Competition kit and the Full Billet kit. The Competition+ kit includes all the basic parts that you'd find in the Competition kit, however the Competition+ kit has a billet intermediate shaft which allows you to push that extra 200hp. Outside of the billet parts the Competition+ kit includes all the clutches, gaskets, bushings, and seals you'll find necessary to rebuild your transmission, in a section below we'll give some suggested products to go along with this kit.
Warranty
Parts such as the (5R110w Xtreme Direct Drum) will be covered under a 1-year warranty. All other parts included will be covered under shipping warranty, if parts get damaged during shipping we'll replace them. If you are unsatisfied with this product we will refund your purchase, if product has not been used.
Suggested Products 
Competition+ 5R110w Rebuild kit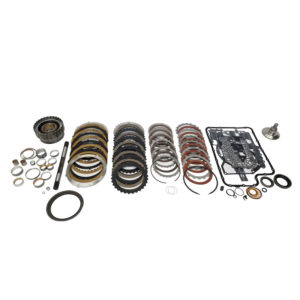 Competition+ 5R110w Rebuild kit. Machined to fit, designed to last.
Product Brand: Warren Diesel
Product In-Stock: InStock