Shipping
This kit ships in 2 separate boxes. Shipping options from UPS Ground, UPS Express and free local pick-up.
The Stock+ 5R110w Rebuild kit for Ford Power Strokes (6.0L 2003-2007 and 6.4L 2008-2010) includes the following:
Specifications 
Overdrive modified piston
4 frictions 4 steels Overdrive  w/ 2 pressure plates
4 frictions 4 steels Intermediate  w/ pressure plate
5 frictions 5 steels Direct w/ pressure plate
5 frictions 5 steels Forward w/ pressure plate
6 frictions 6 steels Low/Reverse
TransTec Gasket/Seal kit
Bushing kit
Sonnax updated low/reverse snap-ring
Sonnax valve body plug (Pressure Switch O-Ringed End Plug Kit (36940-17K)
 Description 
The Stock+ 5R110w Rebuild kit is a basic clutch kit suitable for trucks with stock turbos and injectors rated up to 450hp. The kit does not require any machining, the hard parts used in the transmission do not require machining either. All necessary snap rings are included in the kit and clutch packs are pre-tested to meet factory tolerances and calibrations. The ATSG Manuel (5R110W_DL) is a suggested product for this kit.
Installation 
You will need a basic understanding of transmission mechanics to install this kit. You will need a set of basic mechanic tools, bushing drivers, and spring compression tools. Install time is about 1 day. If you have any questions during installation give us a call at 814-425-1306.
Stock+ 5R110w Rebuild kit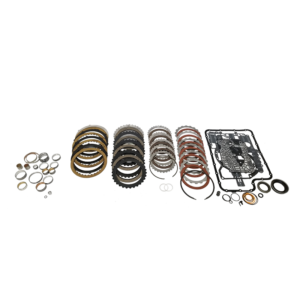 Premium 5R110w Stock+ Rebuild kit
Product Brand: Warren Diesel
Product In-Stock: InStock