Shipping
This product is available to ship in 10 business days.
UPS Express 
UPS Ground
Local pick-up
The Stock+ 6R140 Rebuild Kit includes the following:
Specifics
 Exody Extreme Energy Clutches.
 9-pack Overdrive drum
 6-pack Intermediate.
 5-pack Forward.
 6-pack Direct.
 5-pack Low/Reverse
 Bushing kit
 Ford Gasket and seal kit
Description 
The Stock+ kit for the 6R140 Torqshift is available for the 2011-2019 6R140 models. All clutches, steals, seals, bushings, and machined piston housings are included in the kit for a complete Stock+ rebuild. This kit is designed for a trucks from stock to 600hp, suitable for towing, and daily driving. If your 6.7L Powerstroke has a stock turbo and fuel system with a tune, this kit is perfect for you.
Tuning 
Please contact us with any questions about tuning for your transmission via phone call or email.
Stock+ 6R140 Rebuild Kit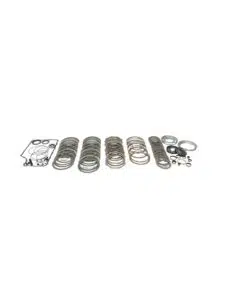 Stock+ 6R140 Rebuild Kit. Machined to fit, designed to last.
Product Brand: Warren Diesel
Product In-Stock: InStock