The 2022 Full Billet 4R100 Transmission for 1995-2003 7.3 Powerstroke is rated and warrantied at 1000hp, and includes the following:
Specifications 
Goerend triple disc billet converter with billet stator Goerend E40D/4R100 Triple Disc Converter
TCS Billet input shaft
TCS Billet forward drum
TCS Billet intermediate shaft
TCS Billet output shaft
OEM pump modified with Sonnax
OEM valve body modified with Sonnax
Remanufactured solenoid pack
4-pack Overdrive 
4-pack Intermediate 
7-pack Direct
6-pack Forward 
7-pack Low/Reverse
Rollerized rear planetary
No-Walk center support
New pistons
New thrust washers
New bearings
On/off lock ups conversion
TransTec gasket/seal kit
Durabond Bushing
Description 
The 2022 Full Billet 4R100 is built in house using TCS Billet parts, capable of handling 1000hp! Best suited with a Hydro Chip tuner, the Full Billet 4R100 engages firmly, consistently, and puts 50% more power to the ground then a stock transmission in your 7.3 Powerstroke would, thanks to the Goerend Billet converter. Manufacturers such as Raybestos, Alto, Exody, and Sonnax keep the internal clutches and mechanisms working flawlessly! The Full Billet 4R100 has options for 6.0 Powerstroke transmission cooler conversion as well.
Warranty 
The Competition 4R100 includes a 5-year combined warranty, with the following limitations;
1-year Unlimited warranty
4-year Labor warranty
Warranty does not cover shipping
Services
The Competition 4R100 includes logistic services such as, local pickups, LTL freight, and Free installs. With questions contact us for scheduling and services. Contact us with questions about transmission control module updates
2022 Full Billet 4R100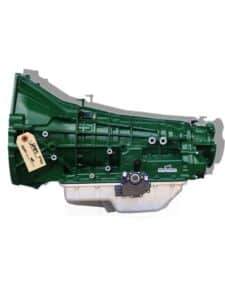 2022 Full Billet 4R100. Built by hand, designed to last, ready to perform. It's got your name on it.
Product Brand: Warren Diesel
Pros
User friendly
Reliable
Versatile
Holds 1000hp