The 2022 Stock+ 4R100 Transmission for 7.3 Powerstrokes 1995-2003 is rated at 450rwhp, and includes the following:
Specifications 
Recon triple disc billet converter
OEM Input shaft
OEM pump modified with Sonnax
OEM valve body modified with Sonnax
Remanufactured solenoid pack
4-pack Overdrive 
4-pack Intermediate 
6-pack Direct
5-pack Forward 
6-pack Low/Reverse
Rollerized rear planetary
No-Walk center support
New pistons
New thrust washers
New bearings
On off lock ups conversion
TransTec gasket/seal kit
Durabond Bushing
Description 
The Stock+ 4R100 7.3 transmission allows you to increase the length of your 7.3 Powerstroke's life with added clutches, machined pressure plates, and increased steel count. Rated at 450hp and with a 5-year combined warranty you can upgrade injector sizes https://shop.fullforcediesel.com turbo sizes https://kcturbos.com/products/budget-7-3-package?nopreview and tuning options https://1023diesel.com/1023-diesel-hydra-tunes-6-tunes/!
Warranty 
The Stock+ 4R100 includes a 5-year combined warranty, with the following limitations;
1-year Unlimited warranty
4-year Labor warranty
Warranty does not cover shipping
Services
The Stock+ 4R100 includes logistic services such as, local pickups, LTL freight, and Free installs. With questions contact us for scheduling and services.
Core
Once you have selected the option "return core" and have received the new transmission, when convenient secure the core transmission to the pallet received and send a photo to our email address and we'll send you a BOL (bill of lading) tape/staple to pallet and a freight company will pick the shipment shortly after.
2022 Stock+ 4R100 Transmission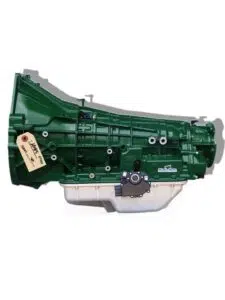 2022 Stock+ 4R100 Transmission. Built by hand, designed to last, ready to perform. Its got your name on it.
Product Brand: Warren Diesel
Product In-Stock: InStock